We specialize in downsizing and de-cluttering for home sales. We recycle, donate or dispose of items as you request.
From the basement to the garage, the yard, and every room in between. We do the cleanup and junk removal so you don't have to.  Our trucks are big enough to handle any debris, furniture, and waste that you can find to throw away.
Old Furniture  •  Carpets  •  Appliances  •  Clothes  •  Electronics  •  Renovation debris  •  Tires  •  Concrete  •  Lawn and garden refuse  •  Tree branches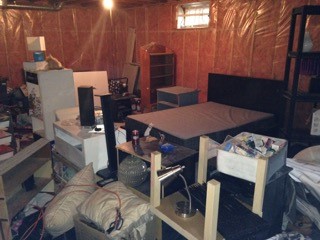 Kloos Hauling and Demolition performs all tasks involved with residential, home, yard and garage cleanup.
We specialize in downsizing and de-cluttering your house, basement, and garage for yard sales, moving out, or just good old-fashioned spring cleaning.
We recycle and properly dispose of all waste materials from batteries to bushes.
Whether it's one box or multiple truckloads, we have the team available to clear out your unwanted and unused waste, trash, and debris.
Our bobcat services are also available for heavy breaking and lifting for things like concrete pads and demolition waste.
Junk Removal • Waste Removal • Recycling • Yard Cleanup • Cleaning • De-Clutter • Debris Removal • Appliances • Refrigerators • Ovens • Washers and Dryers • Furniture Removal • Mattress Removal • Carpet Removal • Scrap Metal
---
Junk Removal Services
Our services extend to private and commercial contractors, homeowners, and business owners.
We do the work so you don't have to.
Call us up for a free estimate to remove your garbage, yard waste, and generally anything you don't want around anymore.
We can give you an exact quote before we begin our work, usually the same day as your first "Kloos Call."
We are available to work around your schedule, days, evenings, and weekends.
We take special care to reuse and recycle waste material wherever possible.
We Service:
Industrial, Commercial, Residential, Health Care Facilities, Businesses and Offices, Schools, Restaurants, Houses, Apartments and Condos.
Garbage Removal • Waste Disposal • Recycling • Yard Refuse • Hauling • Boxes • Debris • Declutter • Cleanup • Renovation Debris • Garbage Bin Rental • Cleanout Services • Construction Debris • Scrap Metal • Glass • Plastic • Paper