Are you remodeling a business or office in Winnipeg? Getting rid of old items in storage? Need to get rid of debris from a recent project? Kloos Hauling & Demolition is here to help with Winnipeg commercial junk removal. Read on to learn more about our services or contact us right away to schedule a pickup!
Fast, efficient & safe commercial junk removal services in Winnipeg
At Kloos Hauling & Demolition, we provide the best commercial junk removal services in Winnipeg. Our team of experts can quickly remove and dispose of all your unwanted items – ensuring you have more space for your business to grow.
We focus on efficiency, quality service, and safety above all else. We take all the steps we can to ensure that we protect your health and safety, and that of our staff. From proper PPE (Personal Protective Equipment) to regular handwashing and glove-changing, we take every step we can for your protection.
We even offer zero-contact removal. We cannot enter areas where anyone has COVID-19, but we can arrange curbside pickup and removal of your junk to ensure that you still get the service you need.
No job is too big or too small – at Kloos Hauling & Demolition, we do it all!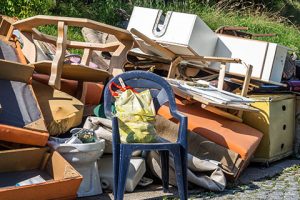 With the services of Kloos Hauling & Demolition, you can get all of your junk hauled away in one single appointment. We can remove garbage and trash, commercial waste, electronic waste like computers, monitors, printers and copiers, office equipment, furniture, renovation and construction debris, and scrap metal – and that's just the start of it!
No matter what items you have, we're here to help. From cleaning out a single office suite to the disposal of enormous volumes of commercial waste, we can handle projects of any size.
We focus on sustainability and ethical disposal of your junk
Whenever possible, we take your junk to be recycled, repurposed, or donated to a worthy cause. This ensures that usable items and materials can get a new life, and that we minimize our impact on the natural world. For items that must be disposed of permanently, we work with reputable landfills and junkyards to ensure they are treated with the proper care.
Call now and get the commercial junk removal service you need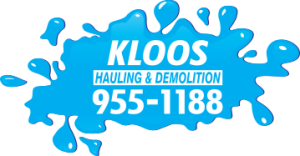 If you need commercial junk removal services in Winnipeg, Kloos Hauling & Demolition is the only company you need to call. So get in touch now at (204) 955-1188, or contact us online if you have any questions.