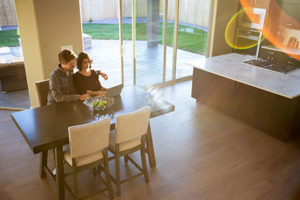 Kloos Hauling & Demolition residential and household junk removal services provide customers with a hassle-free junk disposal experience. Cleaning out the garage, attic, basement, or storage room clutter to yard waste and hazardous materials – we take care of it all. No matter how much waste may be lurking inside a home, garage or found on your property, Kloos Hauling & Demolition has the crew, skills, equipment and experience to ethically dispose of residential junk. If you "got junk" or find yourself saying can someone "remove my junk" – make it a 'Kloos' call – contact us today!
Why hire Kloos Hauling & Demolition over the other guys for household junk removal?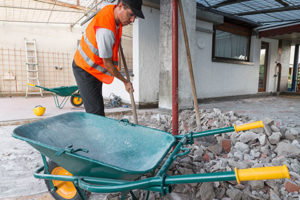 We offer a full range of junk removal services, which means no job is too large or too small for us to accept. Plus, our pricing system is honest, transparent and we give free estimates right from the start.
Choosing Kloos for residential junk removal and hauling takes the stress from homeowners in a several different ways. We are a "green" company, offering environmentally conscious disposal methods. We also eliminate your risk of damaging your property or vehicle if you haul away your own junk, just to name a couple.
Not all household junk removal is equal in complexity. For a list of some of the more difficult items to remove, read: https://klooshauling.com/blog/deal-tricky-items-household-junk-removal/
We remove every type of junk which might be at your home or property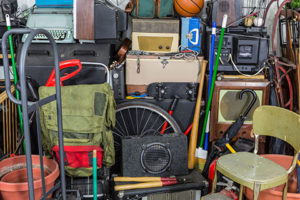 When we say every type of junk, we truly mean every type of household junk that could possibly come from a residence. This includes:
Old Furniture
Carpets
Appliances
Clothes
Electronics
Renovation debris
Tires
Concrete
Lawn and garden refuse
Tree branches
Oil, gas, solvents, etc.
And more…
Anything which could be cluttering a home or its grounds, taking up space and rotting, could be removed by Kloos Hauling & Demolition in a snap.
For an in-depth look at different use cases for household junk removal – read our article: https://klooshauling.com/blog/type-junk-can-junk-removal-company-remove-winnipeg/
Our household junk removal service saves time and effort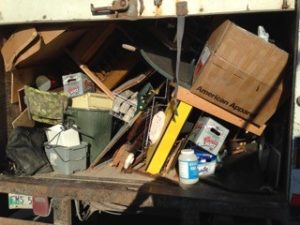 Often, homeowners allow the junk in their home to pile up simply because they don't have the time or energy to dedicate to removing it responsibly. That's where Kloos comes in. An average amount of junk that would usually take someone hours or days to dispose can take us a fraction of the time. Not to mention the number of aches, pains, and sometimes blood, sweat, and tears you'll save yourself.
Rather than placing additional undue stress on a homeowner or property owner due to the junk piling up in their property, Kloos Hauling & Demolition can quickly and effectively remove it. You're left with your home in a clean and tidy fashion without all the clutter, junk, and debris. Since we are very flexible with scheduling, we can accommodate any timing constraints.
Household junk removal quotes available upfront
We believe in conducting business with transparency. Rather than tack on additional fees or hold out pricing information, we offer a free quotes and free estimates before we are ever hired. Not only are our free quotes 100% FREE – they are fast and friendly. In most cases, your quote is available within hours of the first call we receive.
Ever wanted more insight as to why we will complete free estimates and give a free quote for junk removal services? We wrote an article on the subject "Why we give free estimates on our junk removal and demolition projects".
Our junk removal service minimizes risk of damage
Another reason junk tends to pile up around a residence is that most families and individuals aren't equipped with an appropriate transportation method. No one wants to risk damaging their vehicle by transporting something like renovation debris. Asking a family member to come out with their vehicle to help is never a fun conversation.
Kloos takes care of these potentially damaging items without homeowners needing to lift a finger. We have the necessary vehicles and equipment to get rid of every sort of junk.
There's also needs to be consideration paid to the junk causing damage to your property or home over time. Or worse yet, personal injury or injury of others due to unsafe or unkept household junk.
If you know a hoarder – we can help them with junk removal too!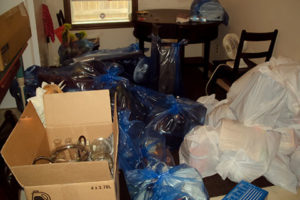 All our household junk removal services are completed with compassion and respect for the individual. We can alleviate some of the stress and pressure around hoarding. We can help turn a dire situation into a more pleasant one! We've received praise in the past how our junk removal and hauling services have directly impacted someone's quality of life in a positive way.
If you have a hoarder in your life – let us help you help them. Read our article on how we can help in hoarding situations.
Responsible disposal methods for household junk removal
In a time where the environment chiefly occupies many minds, it stands to reason that disposing of residential waste responsibly should rank as an important consideration when hiring a company like Kloos Hauling & Demolition.
Whenever possible, we reuse or recycle the waste that we remove from residences. Making small changes like these can result in large positive impacts on the environment. Best of all, homeowners don't even have to seek out these responsible disposal methods—we take care of that as part of every project!
For our full breadth of recycling services and initiatives, read through our junk recycling page. As well, we've highlighted junk removal locations, including recycling depots found in Winnipeg in our "Winnipeg Junk Removal Resources Master List" article.
We donate household junk to charities!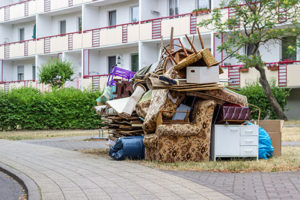 In situations where your junk is in good condition – but you simply don't want it anymore – we will ask your permission to donate it to a local charity. We are quite fond of the organization Centre Flavie-Laurent in St. Boniface. Their central location makes it an appealing drop-off location. As well, they do great work in the community by giving away any donations of physical goods to those in need for free. Check out their website – https://www.cflc.info/ – to learn more about this gracious organization.
Ready to hire Kloos Hauling & Demolition for residential junk removal?
A dirty or chaotic home can create the feeling of a hectic life, but we're here to help remove the unnecessary junk from the equation. Anyone who has been searching for an ethical and efficient household junk removal – you've found us! Make a "Kloos Call" to 204-955-1188 or request a quote online!