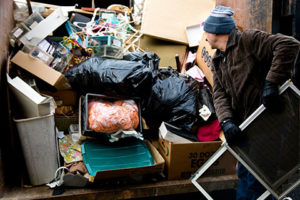 Kloos Hauling & Demolition offers expert-level, highly-professional commercial junk removal services to Winnipeg clientele. When called upon, we consider it our duty to take what your garbage removal company won't take and dispose of it in proper fashion. We help commercial enterprises adhere waste management best practices. It's imperative to the quality of life on our planet.
Therefore, commercial junk removal really isn't a topic that should be taken lightly. First of all, none of the items that require removal from a commercial clean out or demolition are actually light. It's all heavy. That's why you can't move it.
Secondly, communities rely on professional, reputable companies to take care of commercial junk removal in an appropriate manner. If the items that you have are too big for you to get rid of yourself, then that leaves you with two options:
Leave it there
Call us – which is correct option
Why choose Kloos Hauling & Demolition for commercial junk removal services?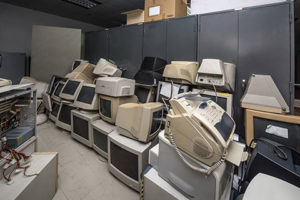 Kloos Hauling & Demolition is ahead in the game when it comes to all aspects of commercial junk removal services. We're a full-service company, offering junk removal for businesses of all types; offices, industrial, construction and renovation sites, commercial real estate – to name a few. Our services can include the removal of nearly everything you can think of, including:
Garbage removal and trash removal
Commercial waste removal
Computer systems and hardware disposal
Computer monitors and printer disposal
Industrial waste
Office equipment and furniture
Scrap metal
Construction and renovation debris
And other clean-out services
When you choose Kloos, you'll know that you are choosing a junk removal company that will sustainably and responsibly dispose of all materials during any given job. Dedication to keeping disposal as green as possible is something we take seriously and strive to improve every time we're hired.
Advantages to hiring our junk removal company
Free, fast and friendly job estimates
Hiring a professional company to take care of your commercial junk removal can give you peace of mind in so many ways. You'll be met with honest, upfront pricing. You'll know exactly what you'll get for what you're paying. Our estimates for any job size are always free, fast, and friendly!
We work on your schedule
Once contracted for a new job, we're available for convenient pick-up at your location on your schedule. From there, you're basically finished – hiring us as your junk removal company is simple and straightforward. The work is done for you and we issue our invoice for payment!
We're able to help with a wide variety of jobs and tasks
Junk removal doesn't discriminate. A wonderful benefit of hiring a junk removal company lies in the fact that you can rely on the service as a residential homeowner or a business owner. From healthcare facilities to schools and everything in between, Kloos Hauling & Demolition is there for each individual commercial junk removal need.
We deliver commercial junk removal results
When you hire a professional commercial junk removal company, you can be sure that the entire removal process will run smoothly. You can also take comfort in knowing that down to the last piece of trash, everything at your site will be picked up and taken care of the right way.
Plus, we never take a day off. Junk needs removal 7 days a week, and you can guarantee that we'll be there to do it.
We recycle your commercial junk, so you don't have to
We're a green thinking and acting company.
We live and work in the same communities which come to us for our junk removal services. The care with which we dispose of all materials, whether it be hazardous or not, has a great effect on where we live and our planet.
We care and the environment matters to us
Commercial waste removal and demolition can have a huge impact on the environment if materials aren't disposed of correctly. It does not matter if the job is residential or industrial, we will recycle every item taken from the site that can be recycled.
Everything else will be disposed of with the same care that we would use in our own homes. We would much rather do things the right way and make a positive impact on the environment, than take amateur shortcuts that save time but cause long-term environmental harm.
Ready to hire us for commercial junk removal services?
If you're looking for a great company to partner with for commercial junk removal services – look no further! We can handle your job, big or small, and we're standing by ready to deliver an estimate for free! To book your next commercial junk removal job – make it a 'Kloos' call – give us a call at 204-955-1188 or reach us online through our website!
Garbage Removal • Commercial Waste Removal • Computer Disposal • Computer Monitors • Printers • Industrial Waste • Office Equipment • Office Furniture • Scrap Metal • Construction Debris • Trash • Renovation Debris • Clean-out Services