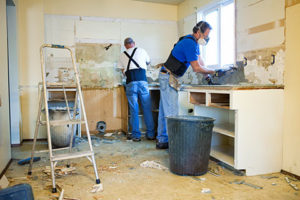 Kloos Hauling & Demolition employs a team of true residential demolition experts. We can work independently or in conjunction with the contractors. We take care of other aspects of the project and hiring us means that the burden of completing the residential demolition to your home no longer falls on the homeowner.
How we completed your residential or home demolition
Beyond the demolition itself, most homeowners don't know what to do with the waste and debris produced by it—we do. Whenever possible, Kloos salvages or recycles the waste produced by a residential demolition, displaying a degree of environmental consciousness not often present in the business world. In many situations, we deploy a technique known as "deconstruction" which conserves the resources found within the home whenever possible.
Dealing with the headache of demolishing residential buildings and structures can cause a great deal of undue stress when a homeowner tries to take it on all alone. Instead, simplify things by letting Kloos Hauling & Demolition take the reins on the project.
Why hire Kloos for residential and home demolition?
Hiring Kloos to perform residential demolition is one of the best choices a homeowner can make while taking on this sort of project. Not only do we complete jobs with a high degree of professionalism, but we also make the process a breeze from the outset.
We are available to complete any part of an interior demolition of your home. Along with interior home demolition, we can complete garage demolition, shed demolition, parking pad demolition, and other structure demolition. We also do a lot of exterior demolitions on homes – removing siding (wood, stucco, acrylic), sunrooms, porches, overhangs, etc.
From our free estimate to our clean up services following demolition, no one offers an easier process than Kloos Hauling & Demolition – it's all in the name!
Full-service demolition experience
After making the initial "Kloos Call," potential customers will receive an estimate for their residential demolition project. Often, this estimate comes just hours after their initial call to Kloos. Since we are committed to treating customers fairly, the free estimate is an important part of our procedure.
In addition to free estimates and a free quote, our demolition quotes are always fast and friendly. We firmly believe in operating our business in an honest and transparent way.
For an in-depth explanation as to why we give free estimates and free quotes for demolition projects read our article: https://klooshauling.com/blog/free-estimates-demolition-junk-removal-projects/
When the residential or home demolition project begins
Once we've decided to work together, we will schedule the residential demolition around the homeowner's needs. Since we offer extended and unusual hours, it's generally quite easy for us to find a time that works for our team and the homeowner.
We have all the necessary equipment to perform the initial clear-out. From there, we offer a complete sweep to collect any of the debris produced by the demolition. This means that homeowners aren't left with a mess to contend with once the demolition is over.
Wide range of demolition options
We can complete almost any kind of residential demolition, including:
Concrete Pads
Garages
Small structure buildings
Sheds
Landscape demolition
Excavation
Decks, patios, etc.
Interior home demolition (ie: preparation for a home renovation)
Exterior home demolition (ie: preparation for a home renovation)
Besides our comprehensive home demolition services, we haul it away too! It's easy to see why Kloos Hauling & Demolition is such a Winnipeg favourite for residential demolition.
Team of experienced demolition professionals
The Kloos demolition team is experienced, fast, safe, and insured. Homeowners can be sure that when they trust Kloos with their residential demolition project, they won't find themselves with more stress than they felt in the first place.
Our team's experience means that homeowners don't have to run the risk of injury trying to perform demolition on their own. Instead, we quickly and safely take care of the project without the customer ever having to lift a finger.
The best thing a homeowner can do to ensure a residential demolition goes off without a hitch is to remove themselves from the process entirely. A professional service like Kloos Hauling & Demolition is the best choice for a perfectly executed project.
Some things related to your residential or home demolition project you'll want to think about
Summer demolition?
Some home demolition projects can only be completed during the summer. This is due to the harsh, cold, unforgiving winter weather which occurs in Winnipeg. For summer demolition project planning, read our article on what you need to know.
Obtaining a demolition permit?
Before you begin any home demolition project, you'll need a valid demolition permit for Winnipeg. Here's how you can go about obtaining your demolition permit (or just hire us 😊)!
Demolition contract insurance?
Is your demolition contractor insured? Before hiring them, you'll want to find out! Or, just make it easier on yourself and go with Kloos – we have the required insurance.
Differences between commercial and residential demolition?
We wrote an article outlining the differences between our commercial and residential demolition services. In the article you'll discover information about machinery used, logistical differences, and we'll talk about demolition versus deconstruction.
Convinced to hire Kloos Hauling & Demolition for your next residential or home demolition project? For those who aren't, we are one of the top-rated demolition companies in Winnipeg and we are experts in the subject. Just read through any of our popular articles:
Ready to choose Kloos for residential and home demolition services?
There's no need to add the stress of an ill-prepared company to the mix when planning a residential or home demolition project. Let Kloos Hauling & Demolition take care of the entire process from start to finish! Make it a "Kloos Call" and reach us at 204-955-1188 or contact us online through our website.