Home renovation projects will usually require demolition. Once the demolition is complete, there will be a large amount of heavy debris. Demolition work can be completed by the property owner, but the process can be dangerous if you're not well equipped with proper tools and safety gear. As well, the demolition process is time-consuming. The mess created from demolition is also an equally cumbersome chore to clean up. By hiring a demolition and hauling company to help, you have a professional help completing the project for you in an efficient manner.
Reason One: for Hiring a Demolition and Hauling Company – Professional Results
As a demolition company will have the tools and equipment needed to get the project done in a timely and professional manner. If you have ever completed a DIY demolition, then you know firsthand just how dusty and dirty it can be. You can keep yourself out of the mess, with the help of professionals. At the end of the demolition and hauling process, we leave the site clean and ready for the next phase of your project. Besides saving yourself from the dirt and dust, you will also not be worn out from the extensive labour required. We can do the heavy lifting and prevent your sore back and stiff muscles while helping to keep your project on schedule.
Reason Two: for Hiring a Demolition and Hauling Company – Safety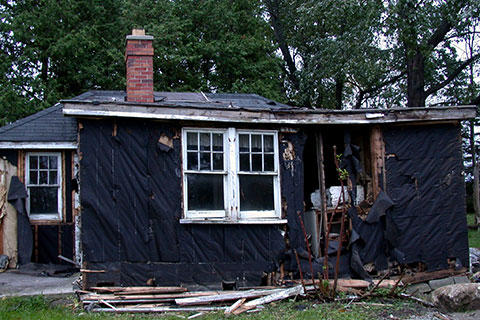 With any type of demolition project, there is an element of unknown risk. We've encountered falling debris, electrical issues and plumbing issues in the past. Bodily harm and property damage can occur if you skimp on safety; being electrocuted, having water damage in the home, or by hurting yourself trying to demolition the property. Knowing how to navigate through these complications, we eliminate the risk. The Kloos Hauling and Demolition professionals know how to finish the project without damage to the home or hurting themselves. In the situation where an accident occurs – we are fully insured.
Reason Three: for Hiring a Demolition and Hauling Company – Assistance with Recycling and Waste
Demolition projects are going to leave behind materials which are recyclable. Other waste materials require special handling for disposal. We pride ourselves on being a "green" company and look to recycle metal, plastics, electronics, batteries and other materials whenever possible. As experts in demolition, we know how materials need to be handled and if they are recyclable or need to be disposed of another way. The process for demolition and hauling becomes smoother with no waste left behind. You will rest assured everything is disposed of in a proper manner.
These are three of the several benefits of working with Kloos Hauling and Demolition. By hiring us to do the job for you, you will save time and reduce risk. We are able to facilitate hauling and demolition jobs of all kinds and variety for both residential and commercial needs. Easily complete your demolition and hauling project – 204.955.1188 – make it a Kloos call today!