At Kloos Hauling & Demolition, we're called into situations where a homeowner has lost control over their amount of stuff. Commonly this is known as hoarding. While it seems harmless on the surface, compulsive hoarding, also known as hoarding disorder (https://anxietycanada.com/articles/hoarding-facts/), is a mental health disease. Along with the act of hoarding, the hoarder often can feel anxiety and depression due to the situation. Feelings of helplessness to do the sheer amount of stuff, feelings of intense attachment to things all fuel the hoarding disorder.
In severe situations, hoarding affects an individual's ability to function. It forms a negative impact on all aspects of hoarder's life – emotional, physical, social, financial, legal – and effects can reach family members. If friends and family members aren't understanding of their situation, it can be a struggle for them to want to be involved or help the individual. However, we'll offer methods to show you how to diagnose and help, if you have a hoarder in your life.
How to identify symptoms of a hoarder?
Identifying symptoms of a hoarder can be difficult. What's constitutes as clutter or collecting versus a true hoarding disorder? If you're looking to self-identify or are evaluating a loved one, look for:
Inability or indecisiveness to throw away possessions
When the decision is made, severe anxiety creeps in when discards items
Highly disorganized in terms of the state of the home's contents
Can't commonly keep items where they logically belong (ie: kitchen appliances which aren't stored in the kitchen)
Distress or embarrassment due to the number of possessions (which can lead to not having friends or family over to their home)
Suspicion when others are over that their belongings have been touched
Accusatory feelings others will attempt to throw away their possessions
Obsessive thoughts about needing items in the future or checking the trash to ensure they haven't discarded their belongings
Functional impairments due to the amount of stuff including loss of living space, social isolation, deterioration of the family, friend or marital relationships
In severe cases, the hoarded items may take over every inch of their living space. This includes commonly used surfaces like kitchen or bathroom counters, items placed on the furniture, items stacked in various locations all over the floor. Due to the amount of the belongings, the home becomes rather inhabitable.
Why does someone hoard?
Each hoarder may have their own reasons for hoarding. Their hoarding disorder can extend from some sort of trauma which occurred in their life. Other times, it can be a feeling of safety which grows over time as they save their belongings. Many of the situations involve a hoarder forming an emotional attachment to objects, which represent past pets, a happier time, and other moments in their life they want to remember. Finally, some individuals hoard because they truly believe the items they are saving, they will need to use in the future.
Understanding the fundamentals behind why the hoarding is happening in the first place, can help work through the issues involved.
How can you help a hoarder?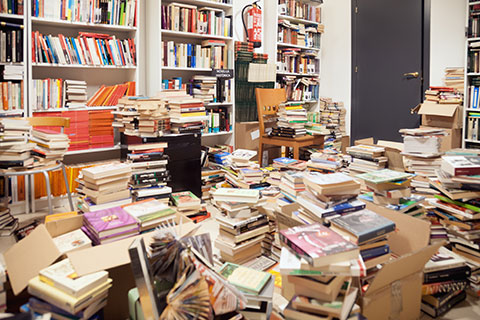 If your family member or friend is a hoarder, talk to them. With a friendly approach, ask them about their recent behaviour, why they are hanging onto possessions, if they're feeling good, etc. Some hoarders can be defensive when approached. Don't push your agenda or thoughts onto them, but instead guide the conversation and listen. Depending on your comfort level with the conversation, you can then seek other options. These can include helping them sort through their items, assisting them to hire professional help, or asking them to seek and discuss their situation with a mental health professional.
How can Kloos Hauling & Demolition help hoarders?
Should the hoarding disorder be manageable and if it's been decided for you to assist your loved one or you're seeking assistance for yourself – know you're not alone. Kloos Hauling & Demolition can help you sort through your belongings and offers full-service junk removal and hauling away from your home. When you're ready to have a solution to hoarding, make it a Kloos call – 204.955.1188.
Friendly, fast service with free estimates
Once you've decided to work with us – we make it as easy and pain-free as humanly possible. We will work on your schedule. Ask us to come to the home for a friendly, fast, and FREE estimate.
After the estimate is presented, we answer any additional questions you have. Upon agreeing to work together, we schedule the junk removal and hauling service according to your schedule. On the day of the removal, you can either be present or away – the choice is yours. Many of our clients remain behind to watch us as we work. We'll take direction from you and offer insightful suggestions should the situation call for it. Having trouble watching us work? We can take frequent breaks and remove the junk at your pace.
Compassionate, caring team members
Our team members care. We understand removing your accumulated belongings from your home is a scary, nerve-wracking endeavour. However, we're there for you, each step of the way. We'll show compass and treat your belongings, home, and surrounding property with the utmost respect. We truly are professionals in junk removal and we fully understand – without you, our valued customer – we wouldn't have a business to operate.
Depending on your situation, your family member or friends situation – reach us for FREE estimates either through our website's contact us page or by calling us at 204.955.1188 to discuss the needs and requirements of the job. No job is too big or too small and our team is compromised effective and efficient workers with experience. If you're ready to part ways with your junk, we're ready too!
We recycle, we donate – help the environment or a charity!
For every job, we analyze the junk we're about to remove. With the homeowner's consent, we look to recycle or donate as much of their belongings as possible. The feeling of helping others through donation or contributing to enviro-friendly disposal of the junk can go a long way in helping the hoarder cope with their emotions.
When hoarding is out of control – consult a doctor or mental health professional
In rare but the most severe circumstances, discuss the hoarding disorder with a doctor or mental health professional before moving forward with treatment and resolution. Please seek treatment before calling a junk removal company in situations where an individual's livelihood is deteriorated to the point where their physical and mental health is compromised. To read more about hoarding disorder visit these fine resources: