Curb appeal is a major factor in selling a home. First impressions, as much as we don't like to admit it, have a huge impact on how we view everything. When it comes to buying a home, first impressions can make or break a potential offer resulting in a sale. Every real estate agent or realtor should always have a professional junk removal company on hand. Sellers are often unwilling to remove their junk in order to sell a home. In cases like foreclosures, there is no way for the real estate agent to clean up other than using a professional company.
Without junk removal for real estate agents, it can be nearly impossible to sell a home for what it's worth.
Effective and efficient cleaning for real estate agents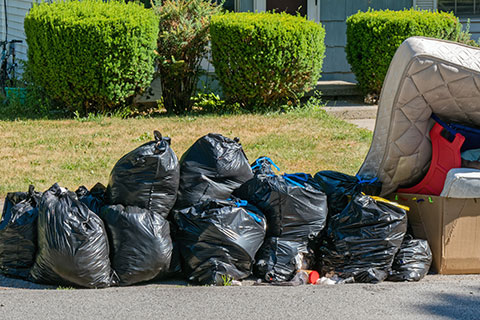 Proper removal of junk before the property is listed can increase the home value, without question. When a realtor hires a junk removal professional, they know that they are doing everything they can to make sure the property is free of clutter.
Junk left behind will be picked up, packed up and hauled away responsibly. Not to mention, the professional process is a quick and careful one. Professionals will always take care not to cause any damage whatsoever to the home for sale.
If you're selling a home which has a pile of trash lying around, make sure you call Kloos! Besides our services for the interior of homes, we also remove junk from exteriors. We can clean up and haul away just about anything! And, you'll receive piece of mind – we remove junk in a sustainable way. We look to recycle or donate materials we come across whenever possible. We do it all!
Other jobs we do for real estate agents
Boosting curb appeal is everything during the real estate sale process – and we understand this. Due to this, we offer an extended set of services to our realtor clients. In the past we've removed trees or shrubs which were unsightly, demolished old sheds, replaced cracked or sunken sidewalk pads, other basic landscaping tasks, weeding flower beds or garden areas. Our real estate clients appreciate us going the extra mile and acting as "one-stop" shop of sorts for all their needs to get the home they are selling ready for the market.
When to call a professional junk removal hauler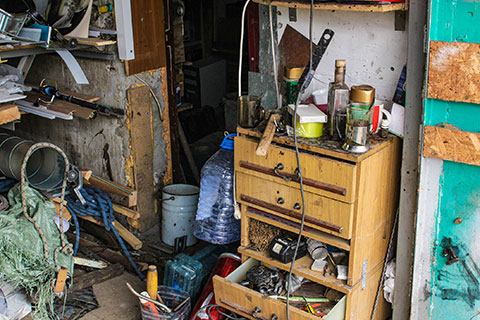 Houses tend to accumulate a lot of unwanted items. Previous homeowners tend to pack up their stuff and leave those unwanted items behind. From old bikes and appliances to ripped couches, any real estate agent will tell you there's usually some sort of mess left behind for them to deal with. A professional company can conduct a full cleanout to ready the house for open houses, staging and appraisals.
Removing trash and junk after a foreclosure can be a daunting job. Typically, foreclosures are left a mess, as families leave their possessions behind. Junk haulers can help move out all the trash, getting the house ready to go on the market for the right price.
Realtors should work with a professional junk removal company
Kloos Hauling & Demolition should be a go-to for every local real estate agent and realtor. Our fast and friendly professionalism turns your questionable property into a hot commodity in no time.
Our experience keeps us ahead of the competition job after job. We're always on the clock, with fast response times keeping turn around fast. Kloos is dependable, and able to remove even the biggest of items. Plus, we recycle every single item that can be recycled, making Kloos your eco-friendly junk removal choice.
Make it a "Kloos" call today at 204.955.1188 or visit our website's contact us page to request a free, fast, and friendly estimate!