At Kloos Hauling & Demolition, we're passionate about the recycling and re-use of building renovation materials. Reusing and recycling renovation materials isn't just good for the planet and the environment – it's common sense!  So, how can you make sure you minimize your environmental impact when renovating or remodelling your home or business? Here are two of the biggest differences you can make!
Consider how materials you're removing can be re-used, recycled, or disposed of safely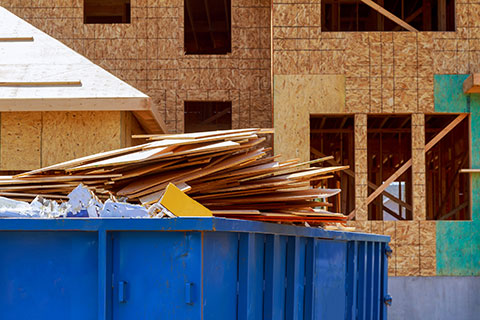 Often, unwanted building materials can be reused and recycled if you use the proper methods of removal. For example, while an old tile floor could be smashed with a sledgehammer to remove the tiles, why waste them if they are still in good condition?
Instead, you could simply remove the grout with a grout saw, pry up the individual tiles, and then store them for future use. Alternatively, donate them to a charity like Habitat for Humanity. Or, if you have access to, send them to a specialized recycling centre.
Even if you cannot use your building materials or recycle them, it's still important to make sure they are disposed of properly. When disposing of materials, make sure it's in a manner that is safe for you, your contractors, and the environment.
Plan to use recycled renovation materials, or use materials & methods that allow for reuse & recycling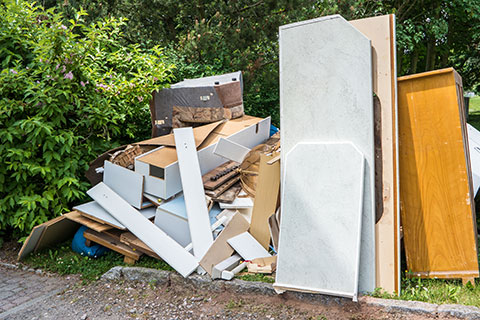 You can further reduce your impact on the environment by using recycled building materials, to begin with. Many materials such as tiles, 2x4s and refurbished or used fixtures can be purchased from reputable dealers.
Even if you would prefer not to use recycled building materials for your building – that's OK. Sometimes, it's not possible to do so. However, there are other steps you can take. For example, you can plan to use recyclable materials if someone decides to renovate the space in the future. They will be able to have a choice to recycle. As well, you'll want to use building methods that make it easy to remove these materials and re-use them.
Need help recycling renovation materials? Contact Kloos Hauling & Demolition!
If you have recyclable junk from your commercial or residential renovation, Kloos Hauling & Demolition is here to help. With our junk recycling services, we can haul away all of your waste, determine what's recyclable and what needs to be thrown away and dispose of it properly.
Not only that, but with our deconstruction services, we can remove reusable materials from your home or business without damaging them – which will allow you to save them for the future, donate them, or even re-sell the materials to help with the costs of your renovation. For more information, contact us online or give us a "Kloos" call at 204-955-1188.