A lot of people in Winnipeg have junk (or unwanted goods) that they want to get rid of – especially clothing. If you have some junk at your property that you want to throw away, it may be able to find a second life at a local thrift store. Learn more below about why you should donate junk to thrift stores, what's an appropriate donation, and how to get your junk hauled to a local thrift store in Winnipeg.
Why should I donate my clothing and junk to thrift stores?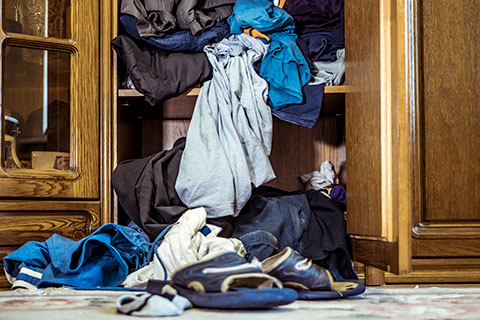 If you want to give lightly-used items a second life, the best way to do so is to take them to a local thrift store. While it may be tempting to just drop off your clothing at a donation bin, only about 25% of that clothing is ever actually donated.
To make sure your unwanted goods find a new home, it's best to donate it in-person to a local thrift store or to hire a company like Kloos Hauling & Demolition to do it for you.
Not sure which local charities and thrift stores you can donate to?
The CFLC is a great option, and so is Siloam Mission.  Do your own research, and you're sure to find a great thrift store where you can donate your unwanted clothing and goods in a way that aligns with your beliefs or causes you believe in.
If you wouldn't give it to a mate, don't donate!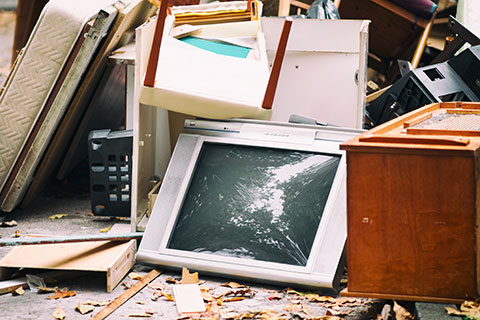 It's important to draw a line between junk – like broken TVs, destroyed clothing and faulty exercise equipment – and unwanted goods and clothes. Items that are inoperable or in bad condition should not be donated.
How can you tell what you should – and shouldn't – donate? Think of this helpful phrase – if you wouldn't give it to a mate, don't donate! Gently used items and clothing that you'd give to someone you know are likely suitable for a charitable donation.
But if you wouldn't give the item in question to someone you know, it probably won't be useful for a thrift store, either. They'll just have to throw it away. Instead, you should throw it away yourself or have it hauled to a junkyard.
Kloos Hauling & Demolition can take care of your junk!
If you have things that you would like to donate to charity, but also have junk that you need to be hauled away to the dump or scrapyard, we're here to help.
We can take your items to local thrift stores and work with other companies to make sure that your junk is re-used, recycled, and re-purposed whenever possible. And items that can't be reused or donated will be disposed of responsibly. To learn more and hire our junk removal services in Winnipeg, just contact us online or give us a call at 204-955-1188.