Winnipeg is a great city with many things going for it. There are countless outdoor spaces for Winnipeggers to get out and enjoy the warm summer season. You may have noticed "Recycle Everywhere" bins popping up all around the city. These are a great way to encourage people to recycle used beverage containers (after all, it is hot out there!) and to keep our city clean. But what are you supposed to do with your household recyclables?
In the city of Winnipeg blue curbside recycling bins are used for the collection of household recycling materials. This includes items like:
food and beverage containers
plastic containers
plastic packaging
newspapers, flyers and other mail
cardboard boxes and cartons
All these items can be left in your curbside bin to be picked up by the city of Winnipeg crew, or you can drop them off yourself at one of the four recycling depots in the city.
Winnipeg community recycling depots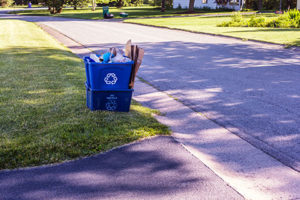 Recycling depots are located throughout the city of Winnipeg. You can drop off your household recyclables 24 hours a day, 7 days a week, 365 days of the year.
St. James Civic Centre

2055 Ness Avenue at Guildford Street

Magnus Eliason Recreation Centre
Pan Am Pool

Poseidon Bay at Taylor Avenue

1539 Waverley Street
4R Winnipeg depots
These specialized recycling depots are larger and accept more varied materials than the community depots, in addition to the accepted household recyclables. These depots accept items including leaf, wood, and other yard waste, scrap metal, ceramics and porcelain, appliances, electronic waste, batteries, tires, household hazardous waste, and used motor oil. For the complete list of accepted items visit: https://www.winnipeg.ca/waterandwaste/recycle/4rdepots/acceptedMaterial.stm
Brady 4R Winnipeg Depot

1777 Brady Road, south of the Perimeter Highway

Pacific 4R Winnipeg Depot
Panet 4R Winnipeg Depot
The second R – Reuse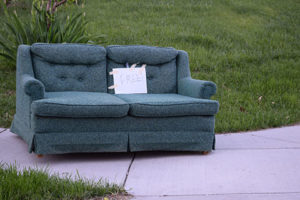 There are many great locations across the city to drop off items that you no longer need and are still in usable condition. For example, living room furniture, pots and pans, cutlery and cooking utensils, bedroom furniture, and small or large appliances. Organizations like Flavie-Laurent Center accept donations of usable home goods.
There are also Salvation Army and Diabetes Canada clothing donation bins located across the city of Winnipeg.
What if you can't drop the items off yourself?
No need to worry! If you're unable to take your recyclables or reusable items to one of these locations, we can. Kloos Hauling and Demolition prides itself on being a "Green" company. We take every effort to ensure every piece of "junk" we remove is disposed of carefully and properly. This includes taking recyclable items to their correct depot and delivering reusable materials to organizations like Flavie-Laurent and other Winnipeg charitable organizations.
We work around your schedule, seven days a week, to ensure that your "junk" is removed without hassle. Make it a Kloos call today!