At some point in your life, you're going to ponder the thought of downsizing your current living situation. Often, this situation arises after your children have moved out of the family home and establishing their independence. While parents with their children still at home patiently await this newfound freedom, many feel as much emptiness as their home has, once the children are on their own. If not managed, these intense feelings can lead to rash decisions, that you may come to regret down the road.
At Kloos Hauling & Demolition, we've heard stories of success when it comes to downsizing. If done properly, you can be left with financial benefits along with increased happiness in your new home. However, for every great success story, there can be pitfalls that will have a significant impact on the process and impede your future joy – these pitfalls typically are financial or logistical. With the topic being so vast, we're going to focus on the common financial mistakes when downsizing your home. As well, stay tuned next month, when we examine common logistical mistakes when downsizing. For now, onto the financial pitfalls!
Over-estimating the financial benefits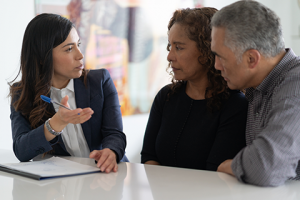 On the surface, selling your family home with the plan to downsize into a smaller living area seems like a brilliant way to free up a lot of cash, quickly. If you're selling your principal residence, there's no tax on the sale. However, even with this tax break, you still might end up eating into the equity you've built with your previous home.
When you're moving to a new home, chances are the marketing is going to be much different than when you bought years ago. You might be surprised how little your money goes in today's market. Research before you sell, so you'll know you can afford the new home you want – or at very least reset your expectations.
Secondly, when selling your home to downsize, don't forget to factor in the following costs that will impact your equity built:
Realtor commission – paid by the seller of the home in most situations, usually at 6% for Winnipeg realtors
Lawyer fees – you'll need to work with a lawyer on two occasions; to close the sale of the home you're downsizing from and then again to close the sale of your new home
Land transfer tax – you'll need to pay this out on the sale and the purchase of your new property
Moving expenses – hiring movers, renting a truck, perhaps temporarily storing your belongings; it all adds up
Generally, an estimated 2.5% of your home's purchase price for the items listed above (other than the realtor commission)
New furniture – if you're downsizing from a larger family home into a condominium or apartment, there's a good chance your current furniture will need to be updated to match the aesthetic of your new home, or because it's just too big to fit properly in your new home
When considering downsizing your home, try online tools like this "Downsize your home worksheet" by the Globe and Mail. Once you've worked through the tool, read our article "When is the best time to downsize and sell a home in Winnipeg?".
Decluttering and downsizing in unison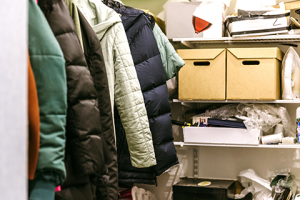 Each of these tasks on their own can feel like an overwhelming amount of work. Doing them in unison is not advised. To save yourself needless stress and headache (and sometimes, heartache) declutter your home completely before you start downsizing your home. With your space clutter-free, you'll be ready for the day when you downsize and start packing for your move.
We've written about practical tips on decluttering your home at length on our junk removal blog. However, our top articles on the subject matter, that we encourage you to read before you start decluttering are:
Don't overestimate how much space you need
With your home freshly clutter-free, you can get a better idea of how much space you need at your new home. While you might be cautious of your new home being too small, often individuals will overestimate the space they need, and then end up in a slightly smaller home that won't equate to the same amount of savings.
With a home that's still too large for your needs, you'll be pay additional to heat and cool. Also, be conscious of other factors like outdoor space, which would increase maintenance costs.
Importance of lifestyle changes
If you are considering a move from your larger family home into a condominium or apartment, be aware of the lifestyle implications. Most condominiums or apartments don't have a yard, which you may end up missing. High-rise living is something that could be a difficult adjustment for someone who's lived in a single-family home for most of their adult life.
As well, if you have a fur baby, specifically a dog, make sure you keep their best interests in mind before moving. Is the new building dog-friendly, near parks or green space? How difficult will it be to let your dog out for exercise and washroom breaks?
Not involving your children or family in the conversation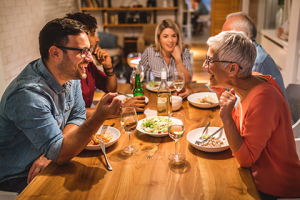 While it's not their decision to make, discussing what you're thinking will only help the conversation forward. If you raised your family in the home you want to downsize, chances are, your children or other family members will have some sentimental attachment to the home.
As well, it can be a sound financial decision to transition the home to one of your children. Depending on your family situation, your children can purchase the home and rent it back to you. Or if you're looking to downsize, you could sell your home to your child and move to your new space, when they live in the family home with their family.
Don't settle when selecting your next home
While there will be many decisions to face, none may as important as these two – 'selling the home for too little or accepting a low-ball offer'; and 'settling on your new home and not getting what you want'.
Downsizing and selling your home for too little
Even if you're in a sound financial position with your mortgage paid off or nearly there, don't leave money on the table. When in the process of selling make sure you're working with a realtor you trust. If they are putting pressure on you to accept an offer which is below asking or feels low to you – voice your opinion. Be careful not to rush the sale process and potentially give too much of your home equity away.
Settling on your new home after downsizing
Purchasing property is a process that takes time. Don't rush into a decision that you don't feel is right for you. If your new home is too expensive, not in the right neighbourhood, or doesn't reflect the lifestyle you want to live – don't purchase it. The pressure to find a new home may feel like a heavyweight but buying a new home that isn't right for you will leave you regretting the decision for years to come.
Work with an expert when downsizing your home!
If you feel you're ready to take the next steps with downsizing your home, why not work with an expert team? In Winnipeg, Kloos Hauling & Demolition have been working with clients to help them downsize, declutter their homes, hauling items for donation, and junk removal. Let us do the heavy lifting and make it a "Kloos" call today – 204-955-1188 or contact us on our website!