When you decide to start downsizing your home, you may quickly become overwhelmed with just how much stuff you have. If you have lived in the same home for many years, you may face decades of "stuff" and have no idea what to do with it. By learning different ways of downsizing, you can easily create more space in your home, which will better prepare you for your future move, without feeling burdened with what to do with your belongings in an immediate sense.
Downsizing your home – storing items
To begin, consider storing some of your belongings. Do you have any collections such as antiques which you display? In a smaller home, you may not have space.Storing such items in a facility will free up the space the items needed. Youwill reduce the clutter within your home and you will be able to decide if youwant to hold on to these pieces or sell them. Storage facilities offer manyoptions and allow you to store a wide variety of items, like furniture,camping, recreational or other outdoor equipment, appliances, tools, etc. Manystorage facilities have flexible hours and your belongings will feel accessibleif you store at a facility near your future home.
Downsizing your home – getting rid of junk
When going through your belongings, it is important to remove any junk. Do you have broken items you no longer can use but haven't gotten rid of yet? Do you have old electronics such as VCRs and other equipment? Hiring a junk removal company such as Kloos Hauling can help to remove the junk items from your home, easing the strain of the move. Along with our convenient junk removal services for residential homes, you will have piece of mind knowing we will recycle your junk when possible.
Downsizing your home – donating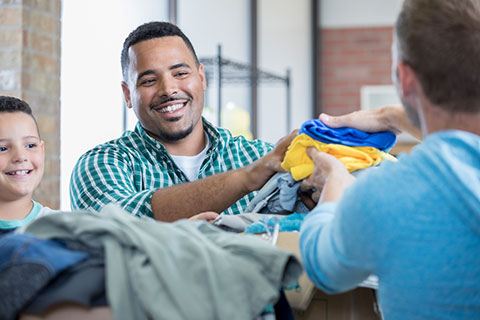 When downsizing your home in preparation for moving, you can also look to donate items. If you have clothing you no longer wear or the kids have old toys they do not use anymore, then consider donating them. You are moving into a smaller space and will not have room for such items. Donating can help you feel good about getting rid of things from your home.
Downsizing your home – what do you really use?
As you go through your items, think about what you really use. If you can get rid of pieces, let them go. Whether it's furniture, toys or clothing, think about the last time the item was used to help you get rid of it. A couple weeks ago  we wrote an article covering a method known as KonMari, which can help you determine what you'll want to keep.
Besides our article on KonMari for decluttering, Kloos Hauling & Demolition are experts in downsizing, having written articles on the following topics:
Downsizing your home – keep it in the family
If you are not ready to completely let something go, consider passing it on to a family member. Give items to a loved one so you can still keep it in the family but are not getting rid of the item altogether. Along with feeling good about your decision, this can have impact on your family member as well, so please keep that in mind. Kloos Hauling & Demolition has vast experience in waste management services, specifically related to junk removal, residential downsizing and decluttering and waste recycling. If you feel you need help – 204.955.1188 to make it a Kloos call – or visit our contact us page and send us a request.