Many homes can have an existing concrete located in the back or front yard. At one time, the concrete had a purpose – but not anymore. Concrete is often added for parking, walkways or patio space, to play sports such as basketball, or other uses. Over time, the concrete can start to crack or chip away causing the pad becomes an eyesore. So, how do you get rid of it? Read on for our tips for concrete demolition.
Concrete demolition – breaking up the concrete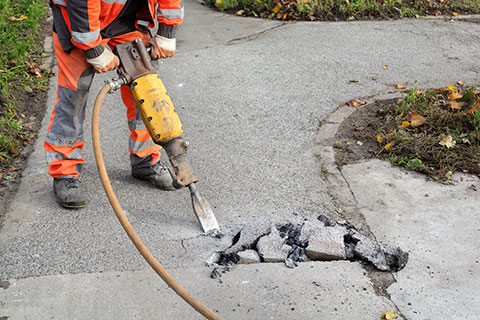 When starting concrete demolition, the material will need to be broken up into manageable pieces. Breaking the concrete apart is typically a manual process – you can use a sledgehammer, but the labour involved will be very difficult.
Using a jackhammer is handy, but still a time-consuming and labor-intensive process. It's easy enough to rent jackhammers and other equipment from most hardware stores – but it's an added expense. Then, you'll need to learn how to use the equipment in a safe manner. Without taking the time to educate yourself, you may cause injury to yourself and others or unnecessarily damage other structures near the concrete.
Examine your concrete. Will it require breaking up to remove? How much concrete do you have to deal with? If you have a large amount of concrete on your property, it'll like be best to hire Kloos Hauling & Demolition to do the job. We are a professional team well-versed in the steps required to quickly and safely remove your concrete.
Concrete demolition – removing the concrete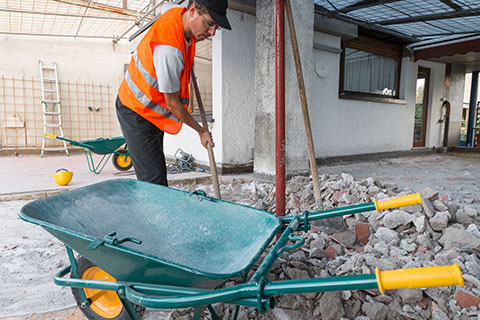 After you've broken the concrete apart into manageable pieces, the concrete will have to be hauled away. Depending on the location, you may be able to use a wheelbarrow or gas powered tractor to assist with the removal. In tight spaces, chances are you're going to be carrying heavy concrete a distance. No matter what your options are based on the space you have, there will be manual labour involved to lift or maneuver the pieces for hauling.
Once you've determined how to move the pieces, you'll still need to haul the pieces. Having access to a truck or trailer should make the task go quickly. But, you'll need to pay for gas and to dump your concrete at the landfill. Depending on how many trips you need to make, the final bill can really start to add up.
Concrete demolition – the easy way – make it a "Kloos" call
Kloos Hauling & Demolition is a perfect option for concrete demolition. When you contact us, we will visit your location and give you a free estimate. The up-front price will cover all of the steps required – breaking the concrete apart, extracting it, hauling it and dumping it. With expert help, we have the right tools for the job. As professionals, we have demolition contractor insurance to protect everyone involved. The concrete is broken up safely, without incurring other damages, in no time flat.
If you have a concrete to demolish – make it a "Kloos" call today – 204.955.1188 – or contact us to set up your appointment.